Reach out to Bombarda Rum
Contact
Got a question? Check out our FAQs
Deck Hours
Mon - Fri: 9am - 5pm
Sat - Sun: Closed

Frequently Asked Questions
Bombarda Rum's Lost Barrel Reserve Culverin & Falconet, & Formidable 18 is gluten-free, nut-free and GMO-free
Bombarda Rum is currently available in 34 states domestically and soon, we plan a launch in a few countries in Europe (Sweden, UK, Denmark, Spain, Portugal and the Czech Republic). For any additional information, i'd direct them to captainjames@bombardarum.com for any distribution inquiries.
Yes, you must create an account to place an order via our online store. Creating an account will allow you to manage your billing/shipping information as well as access your order status and history. You can create an account by clicking here and completing the Register information. Once complete, click 'Register' to create your account.
You can also create an account during the checkout process.
Once you have created your account, you can login for future visits. You will need to use the email address associated with your account to login.
1. Go to account login which can be found on the top right of the navigation bar, or by simply clicking here.
2. Under the Login section, click the link "Lost your password?".
3. Enter the email address or username you used to set up your account on Cask and Barrel Club.
4. Once you click the 'Reset Password' button, you will receive an email which contains a link that will direct you to reset your password on our website. In the email, click the link 'Click here to reset your password'. This will take you to the password reset page on our site. Please enter a new password of your choice and confirm the password by reentering it. Click the 'Save' button to complete this action.
The Cask and Barrel Club does not arrange for the delivery of orders overseas.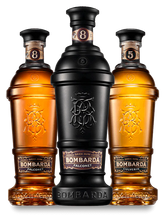 Invest in Bombarda
Want to invest in bombarda?
Pure & True - Bombarda Rum is redefining the way we enjoy rum! Soon, Investing in Bombarda Rum we will be listed on Start Engine.com
Become an Investor!