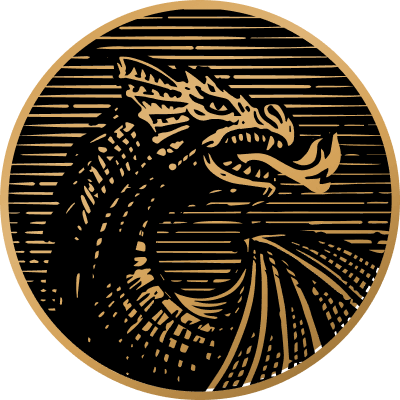 Drake
lost barrel blend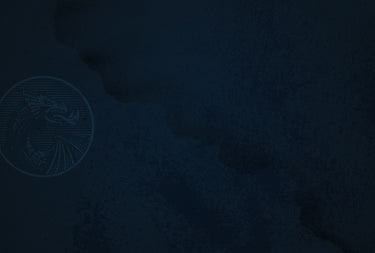 the history of
Drake
Fierce and precise, Drake cannons originally saw action in the English Civil War as an anti-personnel weapon and were known as Minion Drake's, derived either from the Latin word for dragon or from the famous seafarer Sir Francis Drake. The Minion Drake constituted the main armament of the faster and more maneuverable Elizabethan galleons, such as Drake's Golden Hind.
During the Age of Sail, Drake Cannons were used to repel boarding parties. Cast in iron or in some cases bronze, Drakes were fierce light weight beasts that fired a shot weighing 4 pounds allowing ships to defend close encounters. The HMS Sovereign of the Seas known as the feared 'Golden Devil' had 92 Drakes cast in bronze and served her crews well. Minions and Drake's remained in service as man-of-war quarterdeck guns until 1716..
Tasting Notes:
Full-bodied, bold & fruity. A perfect rum to drink neat. Armed with a pleasant Jamaican funk that leads to a warmth that does not burn. Citrus & apricot hints, butterscotch honey and dark chocolate. Enjoy Drake neat or in a classic rum cocktail.
Port Of Origins:
Jamaica
Barbados
Guatemala
Venezuela
Dominican Republic
History of Drake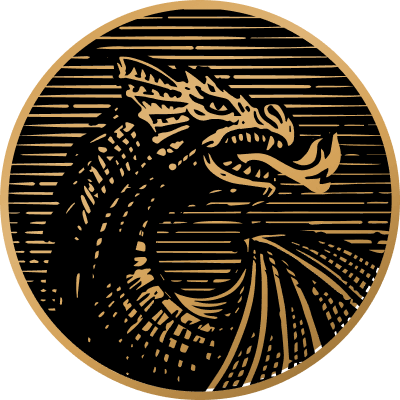 A Rare Dark Rum Blend of 5 ruthless origins Aged 3-5 years
A Victorious Spirit for The Unruly Kind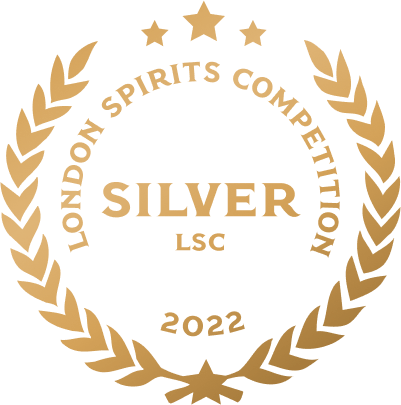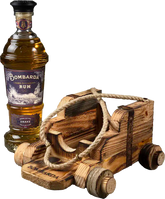 MADE TO LAST
BOMBARDA WOODEN BATTLE CARRIAGE
Bombarda's handmade wooden garrison carriage makes a statement on any bar or in any man cave.
The
Story
Experience Drake
Drake is a 3 - 5 year dark rum blend of 5 ports of origin - Barbados, Jamaica, Dominican Republic, Guatemala, Venezuela. Drake is tropically aged in bourbon & white oak casks delivering an intense breath of sweetness from the finest Caribbean and Latin distilleries. She is bold, relentless and fiery with flavor.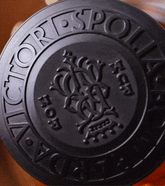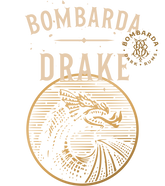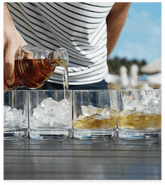 Showing Our Maturity
Lost Barrel Blends
Our masterfully crafted blends show the real age classification. We don't use the controversial solera system.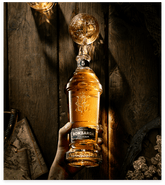 Why our rum the real deal
We Use Only Static blends
Bombarda avoids the Solera system! Brands using the Solera system cannot guarantee an age and many other Rum producers make inaccurate claims for ages on their labels. Not Bombarda!
Drake Aging
Drake is a blend of Rums aged 3-5 years in Bourbon and White Oak casks.
Drake's Origins
Jamaica, Barbados, Guatemala, Venezuela, and the Dominican Republic
History Approved
Each of our products are named from cannon types over the ages.

Are You a Retailer?
Want to carry Bombarda Rum in your establishment? Find out more behind the scenes info on our product lines and how to start carrying Bombarda today.
Download Our Information Sheet